Modern Home Gifts Under $100 for the Holidays
The season of giving is right around the corner! Treasuring the home of friends and family members with unique gifts for their home is a wonderful way to show them you know their style and you appreciate their abode. Many home gifts can be outrageously costly, this is why we compiled a list of modern home gifts under $100 for the holidays!
Espiral Candle Holder – $58
The Espiral Candle Holder has dazzling antique gold details with a perforated cylindrical shape for candle light to filter through. It comes in 2 different sizes. Perfect for modern, contemporary, bohemian, eclectic, industrial and hollywood regency interior designs. Candles are not included.
Hammered Gold Trays – $80
These Hammered Gold Trays have a bold bronze textured finish with an organic form. They can be displayed on their own or used as a base for other home decor. They come in a set of two varying sizes. Earthy and glamorous, they would look marvelous in rustic, industrial, bohemian, eclectic, modern, contemporary and hollywood regency home settings.
Striped Chiseled Glass Vase – $70
The Striped Chiseled Glass Vase is made of crafted chiseled glass with an eye-catching splash of colors to brighten any room in your home. They come in 2 different sizes. They are lovely enough to stand on their own but can also be used for flowers, foliage or natural accents. Perfect on a mantel, bookshelf, display case or as a centerpiece.
Aquala Bathtub Caddy – $65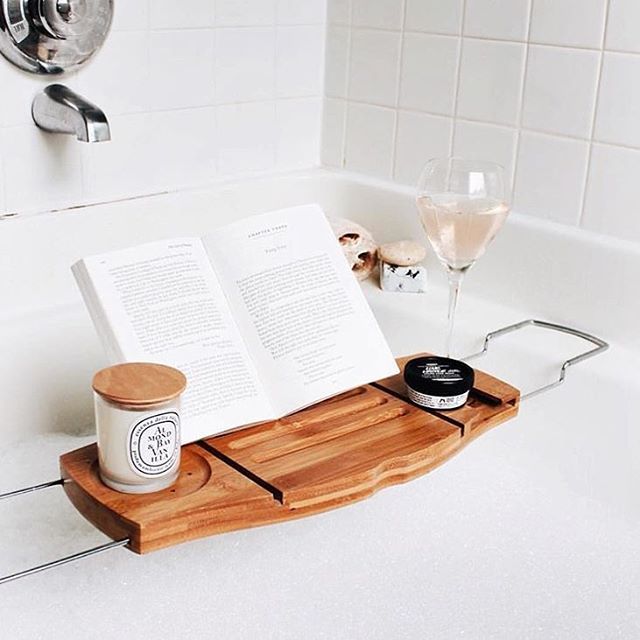 The Aquala Bathtub Caddy is a brilliantly functional gift made for those who love to read, drink wine and relax in the bathtub. It is made of eco-friendly bamboo wood and stainless steel handles with spaces to securely hold items in place. It can easily be removed when not in use.
Bottle Bouquet – $45
The Bottle Bouquet is a unique way to display up to 6 wine bottles at a time. It is made of sturdy and durable metal showcasing your bottles in a lovely floral bouquet design. It is perfect for those who enjoy displaying their wine in style.
Porto Sippers (set of 4) – $42
These Porto Sippers are designed in a 17th century European style. Made of crafted hand-blown glass in a uniquely eclectic shape, they are ideal for port wine, dessert wine or liqueurs. The built-in straw is for easy sipping and the pointed feet are for stability. Perfect for an après meal offering.
Neptuno Cheese Tools – $45
The Neptuno Cheese Tools bring a vibrant and festive style to your cheese platter and hors d'oeuvres. Excellent for hosting or for the holidays, they are made of sturdy metal and swirled jewel-toned glass. Pair them with the Bamboo Hors D'Oeuvres Plate to create set.
Hangit Photo Display – $35
The Hangit Photo Display is a unique way to display printed photographs and memos. It comes with 5 clotheslines and 40 wooden clips. Choose from natural or white finish to meet your style preference. Great for rustic, minimal, modern, bohemian and contemporary homes.
Buddy Wall Hook (set of 3) – $35
The Buddy Wall Hooks are a clever and fun way to hang clothing and hats from your wall. They come in black, white or 3 assorted colors. These playful hooks look like figurines climbing up your wall.
Gift giving this season won't break the bank but it will surely add a bit more style to your loved ones home! Functional, fun and stylish, these unique home gifts under $100 will make it easier to shop for the holidays this season.