Undulating Steel Bridge Creates Sequence of Unfolding Views & Vistas in Australia
The Matagarup Bridge connect's Australia's East perth to the city's Optusstadium. Optusstadium is a multi-purpose venue with 60,000 seats recently completed and open to the public.
The bridge serves as a pathway for access to the stadium. The steel bridge is in the form of a wave, resembling two intersecting flying swans allowing pedestrians varying views of the Swan River.
It appears like more of a large-scale sculpture while blending with the natural and built surrounding landscape.
Perth-based architects, Parry and Rosenthal, are the designers behind the project in collaboration with a diverse stakeholder team including the city of Perth, Metropolitan Redevelopment Authority, Swan River Trust, Public Transport Authority and Western Australia Planning Commission.
"The brief was complex with an overriding aim to create excellent and innovative urban design that reflects Perth's 'sense of place' as well as being a spectacular gateway to the new Burswood stadium," it reads on the architects website.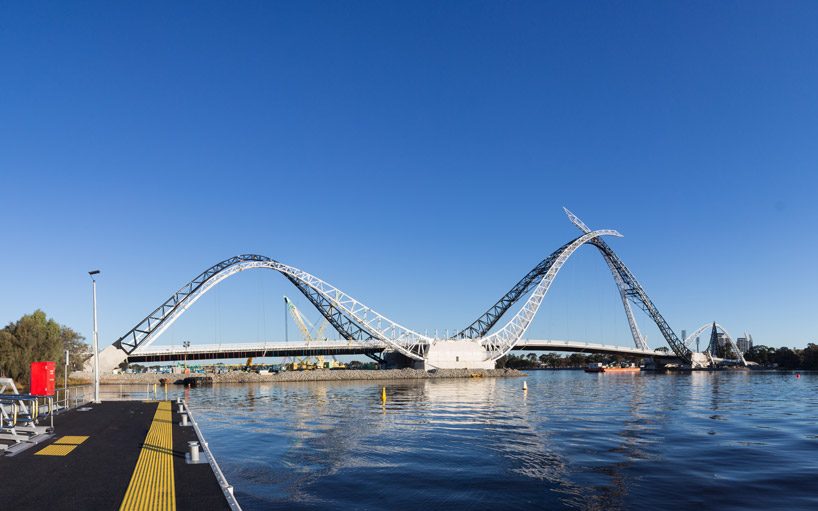 The bridge has a platform above it's central arch and provides thrill seekers with a higher perspective above the river.
"This project has been one of the most technically difficult constructions ever undertaken in WA and the local workforce has embraced the challenge and done an outstanding job," said transport minister in a report by architecture au.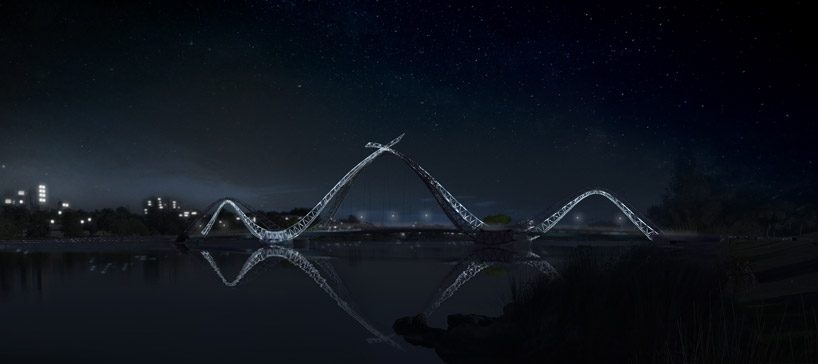 The project was first announced in February 2014 when it was estimated construction would finish ahead of Optusstadium at the end of 2016.
The bridge is approximately 236 feet tall at its highest point and stretches 1213 feet from bank to bank, with a steel cable-stay span of 524 feet at it's center.