"The Dad Outfit" Men's Fashion
Most of us have one and some of us can spot him in a room. But there are some typical outfits we can deem "dad outfits" that can make it like finding where's waldo in a room full of a men if the conditions are set right. I may be missing a few styles in the mix but these are the one's I've seen most often and the one's worn outside of the office or work environment. This is an ode to dad but it's also a homage to adult men's fashion in general – I bring you the "dad outfits."
Relaxed Dad
Loose fitted sweatpants with Crocs and an undershirt with a short sleeve plaid button up with buttons undone and a soft (from being worn a lot) baseball cap or a beanie.
The Casual Dad
Comfort fit carpenter Levi jeans, all white non slip new balance and a hoodie, long sleeve fleece with collar zip up or zip up fleece vest with undershirt.
On-the-Go Dad
Lightweight cotton short sleeve button up (buttoned or unbuttoned) with plaid pattern tucked in at least 3 inches above the belly button with a brown belt and shorts or jeans substitute, heel or ankle length socks with hiking sneakers.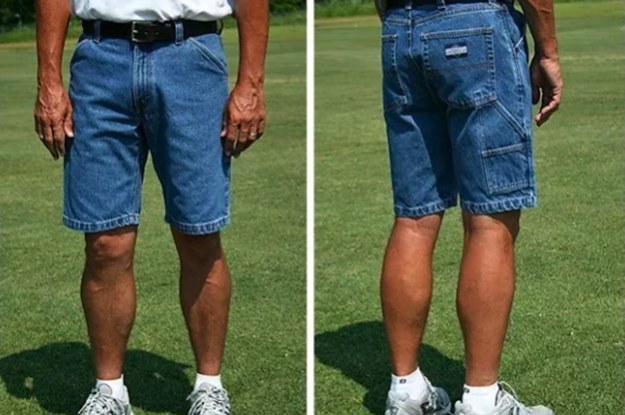 Grandpa Dad
Slacks and a long sleeve dress shirt, oxford shoes or boots with suspenders and with or without newsboy hat to complete the look.
Sporty Dad
Basketball shorts or track pants ankle length socks with Adidas / Nike sports sandals , a short sleeve white or black t- shirt or a sweatshirt.
Forest Dad
Button up, long sleeve flannel with a pair of dickies or carpenter jeans and hardy work boots
Cool Dad
Leather jacket, blue or black jeans, solid color t -shirt or ed hardy embroidered t-shirt and ankle high leather pointed boots with or without a piece of jewelry such as rings or short chain necklace.
Apathetic Dad
Tattered boxers, shirtless, barefoot – maybe slippers, food caught in his beard and chest hairs.
Casual Professional Dad
A crisp pair of jeans or pants with a t-shirt (not tucked in) and a comfortable blazer over top, nice dress shoes or a pair of stylish sneakers
Weekend Dad
A pair of khaki or plaid pattern shorts (with or without belt), a solid color, sometimes striped polo collared shirt or a shirt with a cardigan over top and a pair of boat shoes without socks.
And there you have it – the "dad outfit," many styles, many versions, they might all fit into a specific type but there is only one dad – your dad of course!