Style Combinations Coastal and French Provincial
The ocean air blowing through sheer white curtains as you lay across a navy blue daybed. Your head resting against a canary yellow accent pillow. There is a painted white wooden coffee table in front of you and your favorite rattan accent chair with a detachable cushion placed beside you. The coastal design of your home is airy and serene. 

Equally as memorable of a living space, a tall pastel blue armoire with white drawers, brass handles and ornate legs is directly across from you. You sit on your bed with its high wavy backrest and ornate frame. There is a matching dresser to the right and a matching chest to the left completing your French provincial bedroom set. A beautiful ornate rug with floral and fauna patterns rests at the foot of the bed.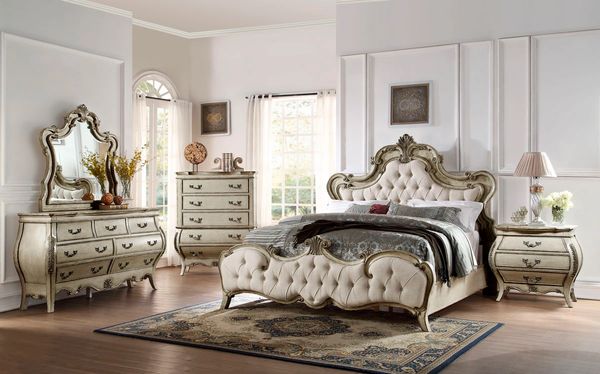 Coastal and French provincial design may seem slightly different in style, but together they make a powerful pair. 
Coastal and French provincial style can be combined to create a beautiful interior design. French provincial style appears regal. It is characterized by bold floral patterns, luxurious fabrics, ornate chandeliers and eye-catching forms.
Coastal style appears homely. It is characterized by soft hues, solid colors, geometric forms and a combination of rustic materials and comfy fabrics.
To combine Coastal and French Provincial, there are a few ways to seamlessly bring them together. 
Choose one style for the main furnishings and add the other style as accents. 

Choose similar shape, complementary color and cohesive materials to blend styles. 

Choose versatile furnishings for your larger pieces. Meaning, furniture that can pair with practically anything. Fill in the details by choosing decor and accents in both styles. 

Here are a few coastal and provincial interior design examples for inspiration: 
Combine a French provincial sofa with diamond tufted upholstery and an elegant backrest with solid colored accent pillows in light yellow, pastel blue or blush pink. Add a rectangular coffee table with a bottom shelf and X-base design. Pair with a large area rug with floral and fauna patterns. Place two square and painted wooden side tables on each end of the sofa with crystal base lamps. 
Combine a simple platform bed with a light wooden frame pair with ornate floral patterned bedding. Place a free standing tall lamp with a brass wire base and a round cotton white lamp shade in the corner of the bedroom. Add matching light wooden and rectangular chest and dresser. Place a mirror with an ornate frame above the dresser. Add white velvet  cloths atop the furnishings 

French provincial and Coastal style use similar colors throughout their design. This makes it a tad easier when blending these two together. Just be aware of the difference in materials and shapes of the furniture and home decor. This will give you more flexibility with a definable foundation to design from.