Stangl Pottery & Dinnerware
Shiny and decorated with colorful floral, fruit and bird patterns, Stangl pottery is a North American classic form of collectible dinnerware that can be found in many homes across the country.
Some of the dishware and pottery are hand painted while others were made using stamps. No matter the item, nearly all Stangl pottery and dishware is either impressed or stamped with the STANGL or Stangl name on the back or bottom of it.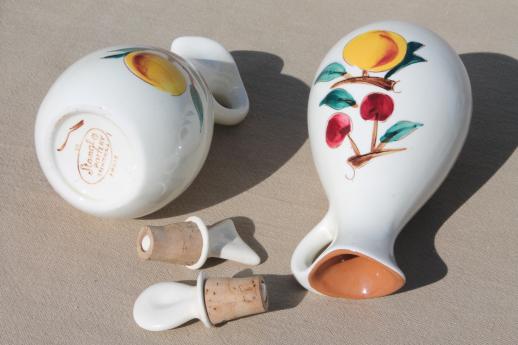 Stangl pottery was the first pottery in America to manufacture bird figures in pottery and in 1942, the porcelain.
All dishware until 1942, was designed on a white body – the most popular being the Colonial and Americana shapes.
In 1942, Stangl introduced a new line of handpainted dinnerware. Some of the more recognizable designs include fruit with a leaf motif and fruit and garden patterns.
Stangl pottery is believed to have its origins in the early 1800s, first at a production warehouse in Flemington, NJ operated by Samuel Hill, later run by his nephew, Abraham Fulper and then by Martin Stangl – where the infamous Stangl name comes from. A fire in the factory moved operations to Trenton, NJ but later the pottery was produced in warehouses located in both Flemington and Trenton.