Nudie Cohn Famous Rhinestone Tailored "Nudie Suits" & Honky Tonk Bar in Nashville, TN
Nudies Honky Tonk is a multi-level music venue with a rooftop bar featuring live performances in downtown Nashville, TN.
Aside from the popular acts that play through there, the venue was started by Nudie Cohn, an American tailor who created the famous rhinestone tailored suits worn by legendary country, bluegrass and rock & roll musicians. These custom suits are made to be worn with confidence because when you see someone rocking a nudie suit, you can't miss it.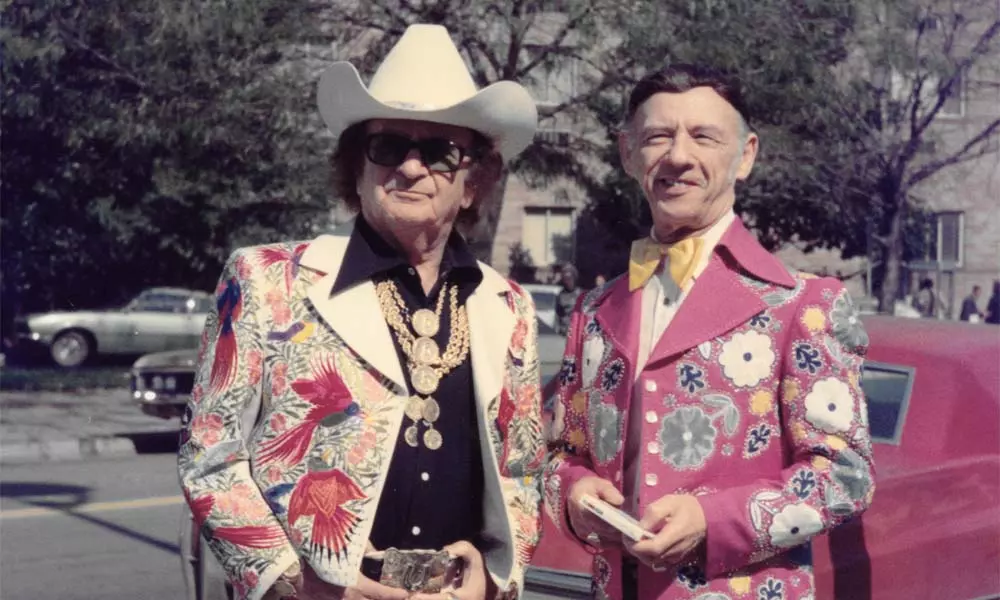 Some of these Nudie Suit wearing musicians include Dolly Parton, Elvis Presley, Porter Wagoner, Hank Williams, Gram Parson, John Wayne, Cher, John Lennon and Hank Snow.
Dolly Parton wore a nudie suit for nearly every performance. Some of other notable nudie suits include Elvis' $10,000 gold lame suit, Porter Wagner's wagon wheelhouse themed suit, Gram Parsons' marijuana, pills and cross suit, worn on the cover of the Flying Burrito Brothers' 1969 album "The Gilded Palace of Sin," and Hank Williams' black and white, music note cowboy suit.
"Nudie Suits," can come in a variety of colors and designs but they almost always have a bit of glitz, glam or flair to them.
Embroidery, stitching, patchwork, fringe and rhinestones are just a few of the embellishments on these well-known suits. The suits are fun, fashionable and definitely attention-getting.