10 Easy Ways to Create Your Own Haunted House
If you celebrate Halloween chances are you have been to creepy haunted house in October. Some haunted houses have elaborate themes and live actors planted throughout to scare you when you least expect it. This year, you may want to create your own haunted house. There are a few easy ways to get you started!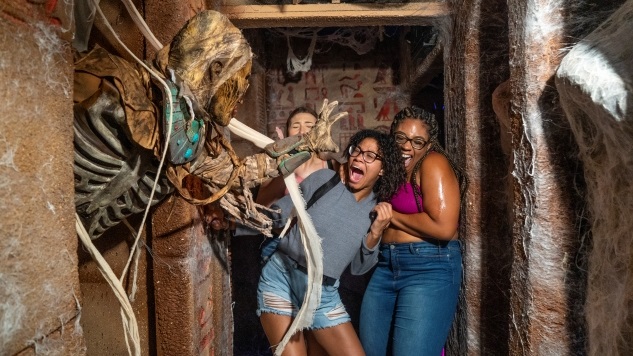 1. Cover all of your furniture with "blood-stained" white sheets.
A really quick and easy solution to giving your house a spooky look is by covering the furnishings. It isn't exactly scary walking into a modern home unless you have chocolate brown and navy blue upholstery in the same room! Yikes! Take white sheets and using a splatter technique with fake blood or even blood toned spray paint, make them look like a murder scene. Then cover all of your furnishings with the "blood stained" sheets.
2. Use creepy lighting around the house.
Lighting goes a long way especially in haunted house design. No one is scared in a well-lit room unless they are afraid of hospitals. Keep the lights dim. Use green, purple, red or orange lights or replace the lightbulbs with these colors for a spooky look. You can even opt for black lights for an illusory experience.
Smoke machines make it difficult to see into the distance and sometimes directly in front of you. They add mystery and illusion to the space. Making the surroundings unclear and creating apprehension for what might be lurking around the corner!
A scary soundtrack can really make a strong impact in a haunted house. You can even make your own with a low-toned voice, overlapping whispers or intermittent shrieks and screams. You can even find some vintage ambience oldies from the 1920s – 1940s softly playing in the background.
Trickery of the eye is one of the many creepy features of a good haunted house. By placing mirrors throughout the space you can angle them to confuse visitors or for visitors to see things from the corner of their eye. Be sure to cover the edges of the mirrors with black sheets or fabric if placed in a dark room.
Motion sensored decorations can mimic the unexpected actors often found in professional haunted houses. Place a motion sensored ghoul or talking witch directly around the corner from one room to the next. They will experience a spooky startle and even feel slight apprehension as they make their way into another room.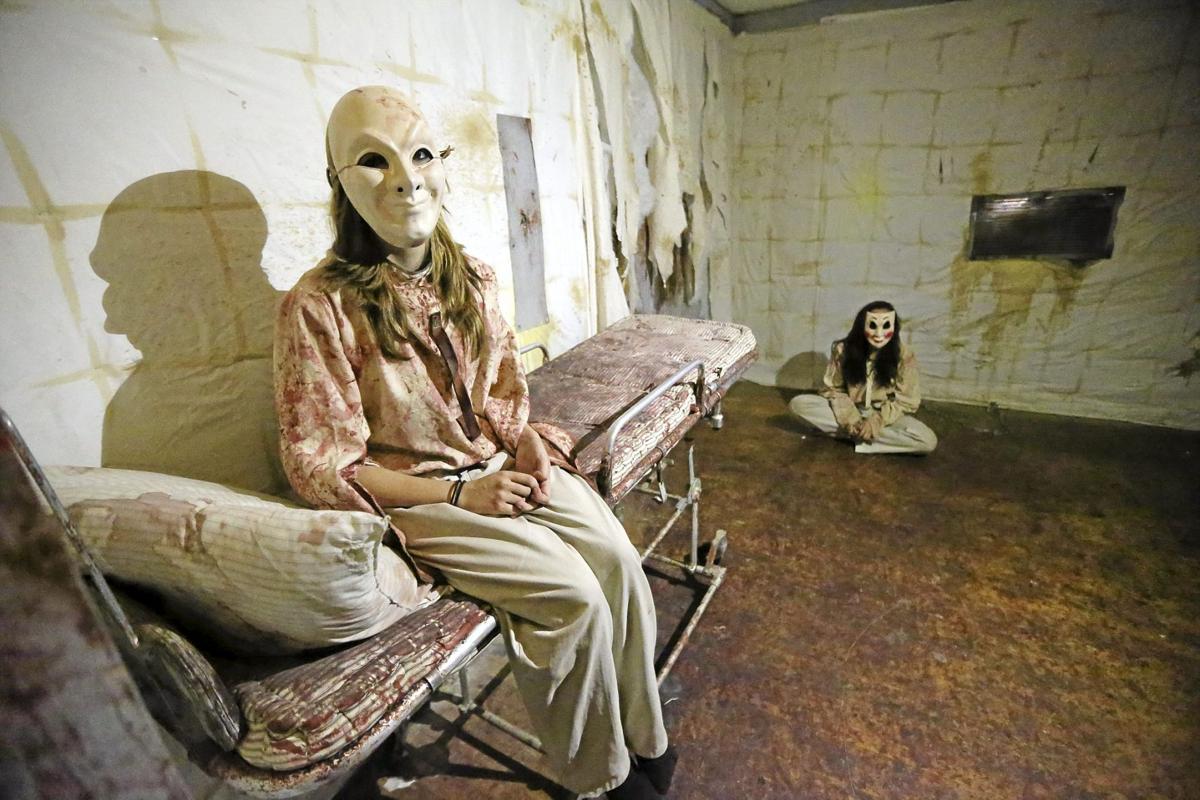 Staging a theme isn't necessary but it can make things easier. You can turn your haunted home into a murder scene with blood splatter and chalk outlines on the floor. Try a mental asylum with torture tools and bloody doctors equipment laying around. Even a witches chamber with a smokey cauldron in the center and glowing elixirs on shabby tables. It is your choice if you want to stage a theme or create a free form haunted house.
If you can't turn every room in the house into a creepy theme, use the extra rooms as "stay out" rooms. Nothing takes the illusion away like venturing into a "normal" room in a haunted house. Be sure to lock the doors to the rooms that aren't decorated. Add creepy lighting that can be seen from the door with a soundtrack playing in the room. You can even add caution tape or a sign that reads "STAY OUT." They may try to enter the room, only to find something terrifying is happening on the other side.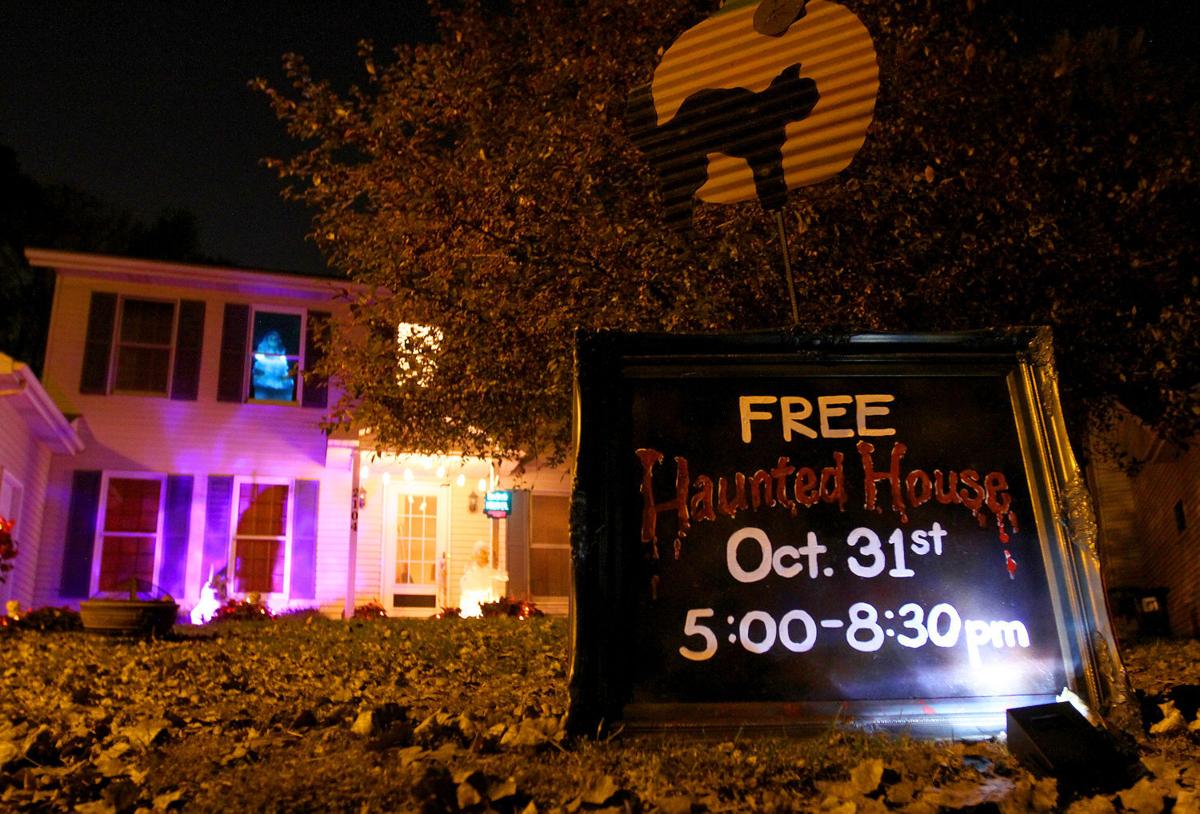 You may put time and effort into turning your space into a haunted home. If no one visits, than what is the point? Be sure to get the word out to family, friends and neighbors. Don't forget to make a large sign reading "HAUNTED HOUSE" or "COME INSIDE IF YOU DARE" posted to the front of your house with an arrow pointing inside for trick-o-treaters. You want others to enjoy the scary scene you worked hard on! CAUTION: Always consider what is age appropriate too. You may want to wait until later in the evening for the older kids before inviting youngsters into your haunted house!
10. Be sure to get into character
The smiling face and friendly wave you usually give to neighbors won't fly in a haunted house. Choose a creepy costume. Be sure to choose a character and costume that fits in with your staged theme, if you choose one. Don't break character unless you have to!
Creating your very own haunted house is a fun way to celebrate the Halloween holiday. You can keep your home staged for one night only or for the entire month of October!