10 Creative Ways to Display Photography in a Modern Setting
Whether you are a photographer, have photos you'd like to display or collect photographic art, there are countless ways to showcase these photos in your interior design space in a creative and attractive way that won't take away from the aesthetic but will enhance it!
String and Clothespin – super simple and chic, take a clothesline or thick string and loosely pin to your wall using thumbtacks or nails, hang photos from the line using clothespins
Hanging Film Strip – display images in a vertical paneled position to showcase photos like a film strip
Mixed Media Collage – create a ascending or descending collage along your staircase displaying photos in frame and use similar size, shape and color display cases to showcase vases, figurines and other artwork
3 Panel Photo Wall Frame – a classic photo display using one photo split into 3 pieces, you can also use 3 different photos with a similar theme
Decoupage – take old furniture or furniture you won't mind decorating, using an adhesive like modpodge, glue photos in a collage to cover the entirety or parts of the furnishing
Collage with Letters and / or Words – display photos in a pattern, design or collage with letters, words or phrases that relate to the photos
Multi Finish Wall Collage – Create a wall display using frames of a similar material like wood or metal in a variety of finishes
Vintage Metal Frames – Turn vintage metal dishware and other metal objects into frames, cut the photos to fit inside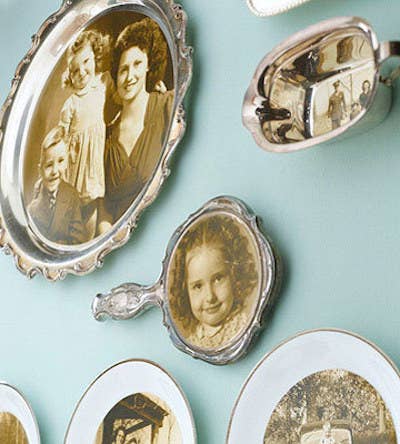 Clear Bottles and Mason Jars – place photographs in antique glassware, old bottles or mason jars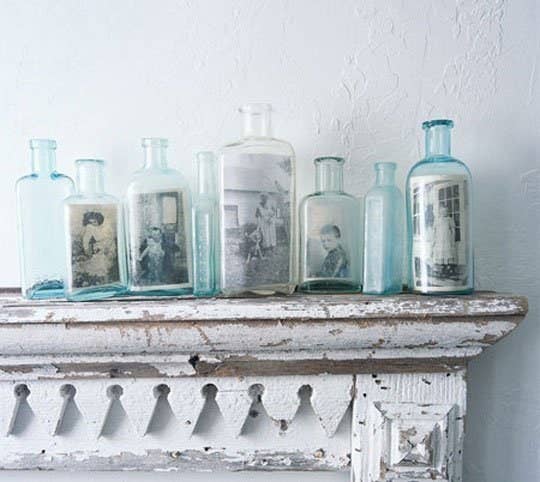 Printed on Wood – digitally upload your photos on a computer and flip them (like the way they would appear in a mirror) so when they print they are right side up. Place wax paper in a printer, carefully print the image onto the wax paper, the image will smudge if you touch the ink so be extra cautious, carefully place the image onto the wood and press firmly using a credit card or spatula for the image to adhere to the wood. Hold for several seconds then slowly peel back the wax paper.