Fun and Challenging Art Puzzles Can be Used as Wall Décor After Completed
If you're up for a real challenge, try one of these abstract art puzzles to put your mind in pieces! Don't worry though, you'll be having fun putting your brain back together again.
Created by Four Point Puzzles in collaboration with talented visual artists, Ryan McGinness and Vratislav Pecka, these 2 original contemporary graphic puzzles are ready for your jigsaw skills.
Designing Destiny by Ryan McGinness and Tangled by Vratislav Pecka are the 2 artworks turned jigsaw puzzles by current and very talented artists with connection to legendary art icons of the past. Inspired by modern mavericks such as Andy Warhol and famous cubist painters such as Picasso, these fun and challenging art puzzles will take your appreciation for art to the next level of viewing.
The best part, once you complete your work of art, you can frame it and hang it up for display. Now we know it isn't the same as making your own painting or buying an original, even a print reproduction. However, if you love games, artwork and something interesting to do for a few hours on a Sunday afternoon, these artistic puzzles are a super cute idea with a souvenir worth turning into wall art at the end!
"Designing Destiny" art puzzle by American artist Ryan McGinness. He incorporates iconography such as familiar logos, signage and contemporary idols into his artwork. This puzzle design is layered with his eye-catching graphic drawings in a psychedelic colorful collage. He calls these modge-podges of abstraction and form, "Mindscapes." The puzzle contains 1,000 pieces and yes, it is a challenge! It is 4 out of 5 on the difficulty scale.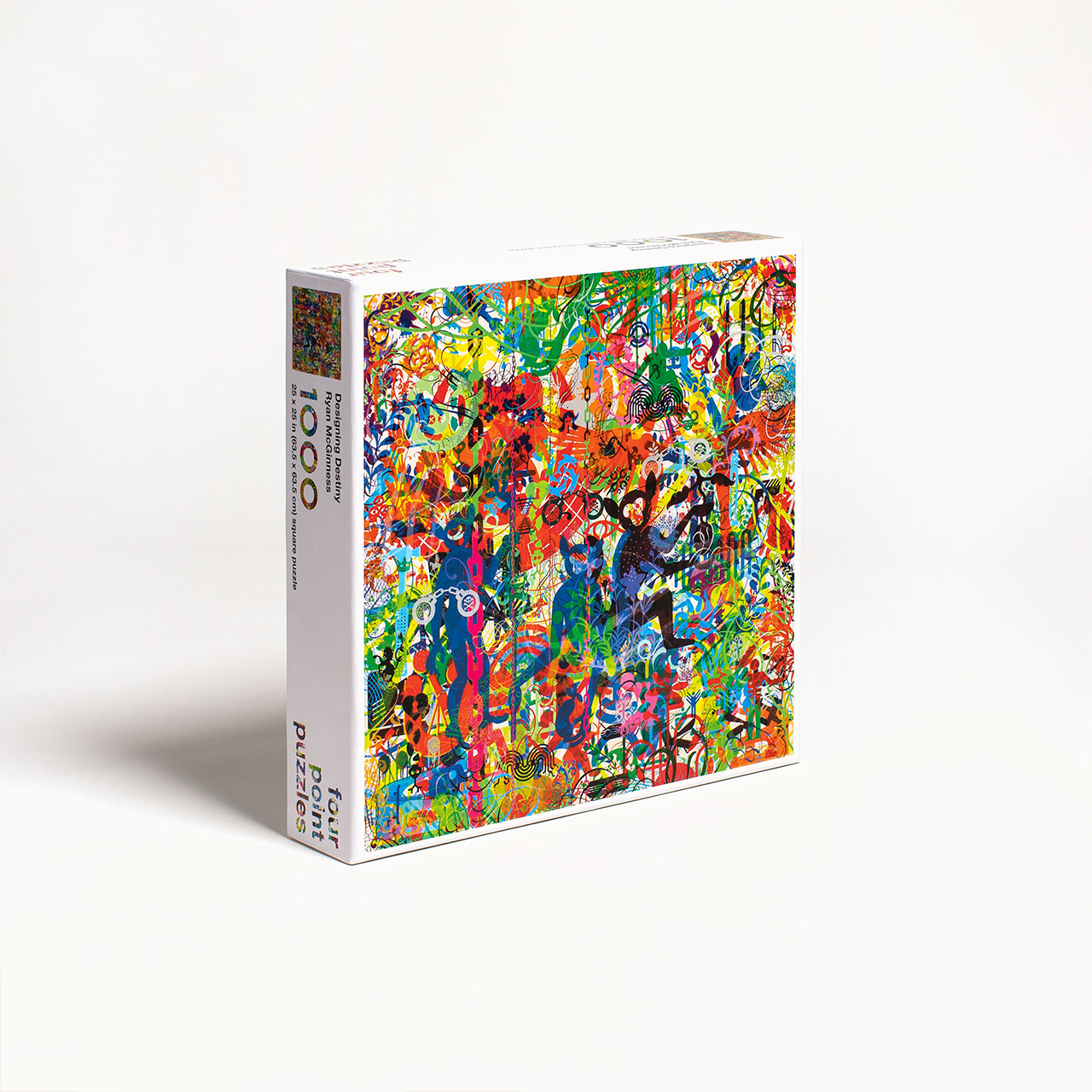 "Tangled" art puzzle by Czech artist Vratislav Pecka. He draws inspiration from popular imagery in the 90's era combined with the Bauhaus visual movement. ulls inspiration from the Bauhaus aesthetic and '90s nostalgia. Both retro and modern, he takes defined geometric shapes, vibrant colors and thick organic lines into a fun and abstract intermingling. This puzzle contains 1,000 pieces. It is less challenging than Designing Destiny, but not by much. It is 3.5 out of 5 on the difficulty scale.
You can purchase art puzzles, "Designing Destiny" and "Tangled," along with other jigsaw puzzles at FourPointPuzzles.