Toneoptic rpm Neatly Organizes & Displays Vinyl Records in Minimalist Floating Storage Module
Vinyl records have been growing in popularity, spanning generations, for collectors and music lovers alike. With the creation of the Toneoptic rpm, vinyl enthusiasts with massive collections can display and find their favorite discs without having to sift through large crates, display cases and bookshelves. Designed by graphic artist Fabian Geyrhalter, this was an invention driven by personal needs as well as inspired by new technology. His collection of up to 1,666 records needed a new home, but he was not going to part with them anytime soon.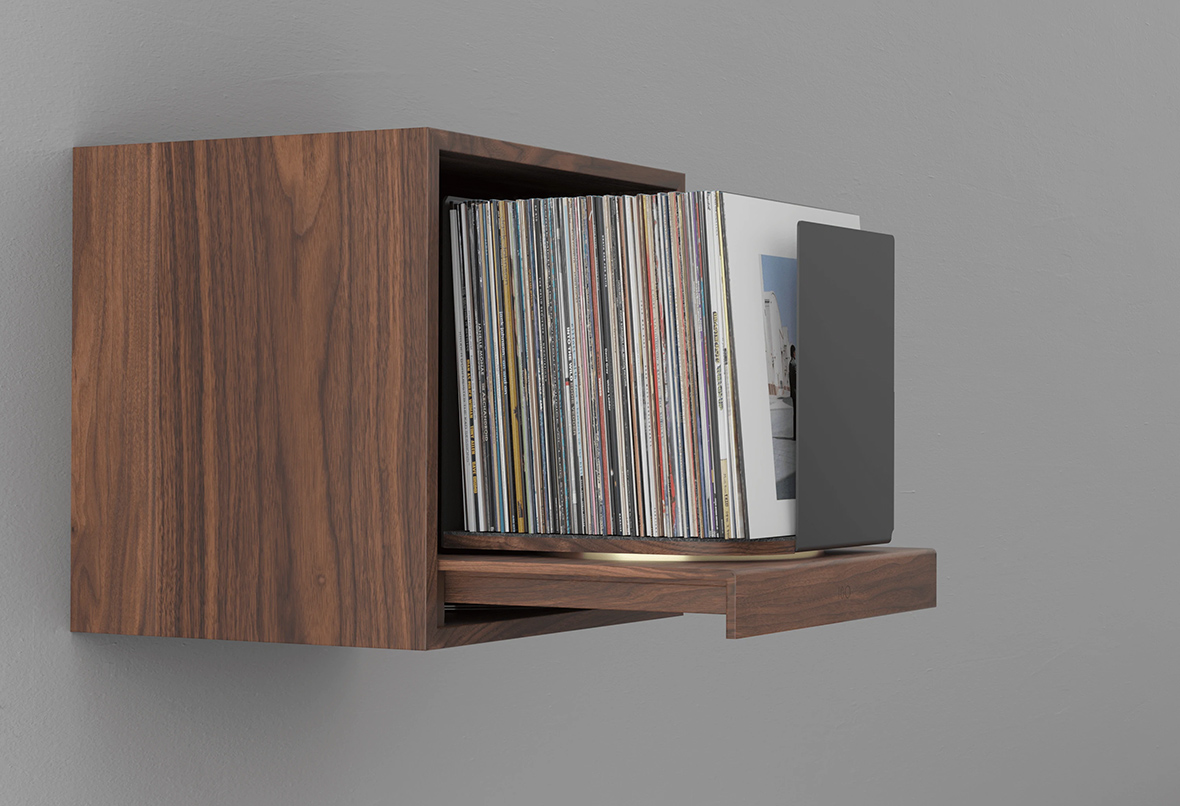 "I struggled with the way I liked to store my records, which, naturally, is library-style…I kept selecting records to spin that had fat spines or easy-to-read titles – the ones where I was quickly able to recognize the record – over and over. By doing so I was fully aware that I was leaving out any thin spines, older second hand records where spines rendered illegible, or the many that had no titles displayed on their spines altogether," said Geyrhalter.
Its clean, geometric and minimalist style resembles a wall-mounted box, made from either solid walnut or finished in acrylic lacquered white. Its mid-century modern appeal is simplistic enough to integrate with a variety of styles, making it both useful and attractive to a wider audience. The Toneoptic rpm works by gently pulling its lipped bottom. At the same time, it opens and spins its vinyl contents 90 degrees forward, creating an easily accessible and orderly design. The movement is smooth and gentle, similar to the way a record is placed on a turntable and its needle placed on top.
Each Toneoptic rpm is hand-built in Los Angeles, CA. They are designed to store and display vinyl records of all sizes, including 12-inch, 10-inch, and 7-inch vinyls. They hold a capacity of about 60 – 75 records each. Each rpm unit can be used individually or in a group, as a floating storage display unit. Their impressively versatile, Scandinavian-inspired style, makes them a good fit for most, if not all, modern and contemporary households.
Currently, the Toneoptic rpm is being sold as a 50-unit presale. Each module is individually numbered, signed, and rightfully designated as a "Founders Batch." You can find more information about the Toneoptic rpm on the Toneoptic website.