Stay a Night in the 1960s Futuro House by Finnish Architect Matti Suuronen
In 1968, the Futuro House was created by Finnish architect Matti Suuronen. Fortunately, there isn't only one either! There are 68 of these unique, saucer-shaped dwellings all around the world. The Futuro House shown is located at Marston Park in Somerset Countryside, U.K. This specific one is a collaboration with artist Craig Barnes and it's available for vacation.
Craig Barnes purchased this one from South Africa and relocated it to the U.K. Not only does it transport you to another time, whether it be the past or the future, but it is also easily transportable as well.
This Futuro House was nearing its end, due to neglect, before Barnes helped restore it to its former glory.
To actually stay at the Futuro House, the costs can get a bit pricey. Accommodations range from 400 euros to 1,200 euros per night depending on the amount of people sharing it. The Futuro House is not open year-around but it is currently open to visitors.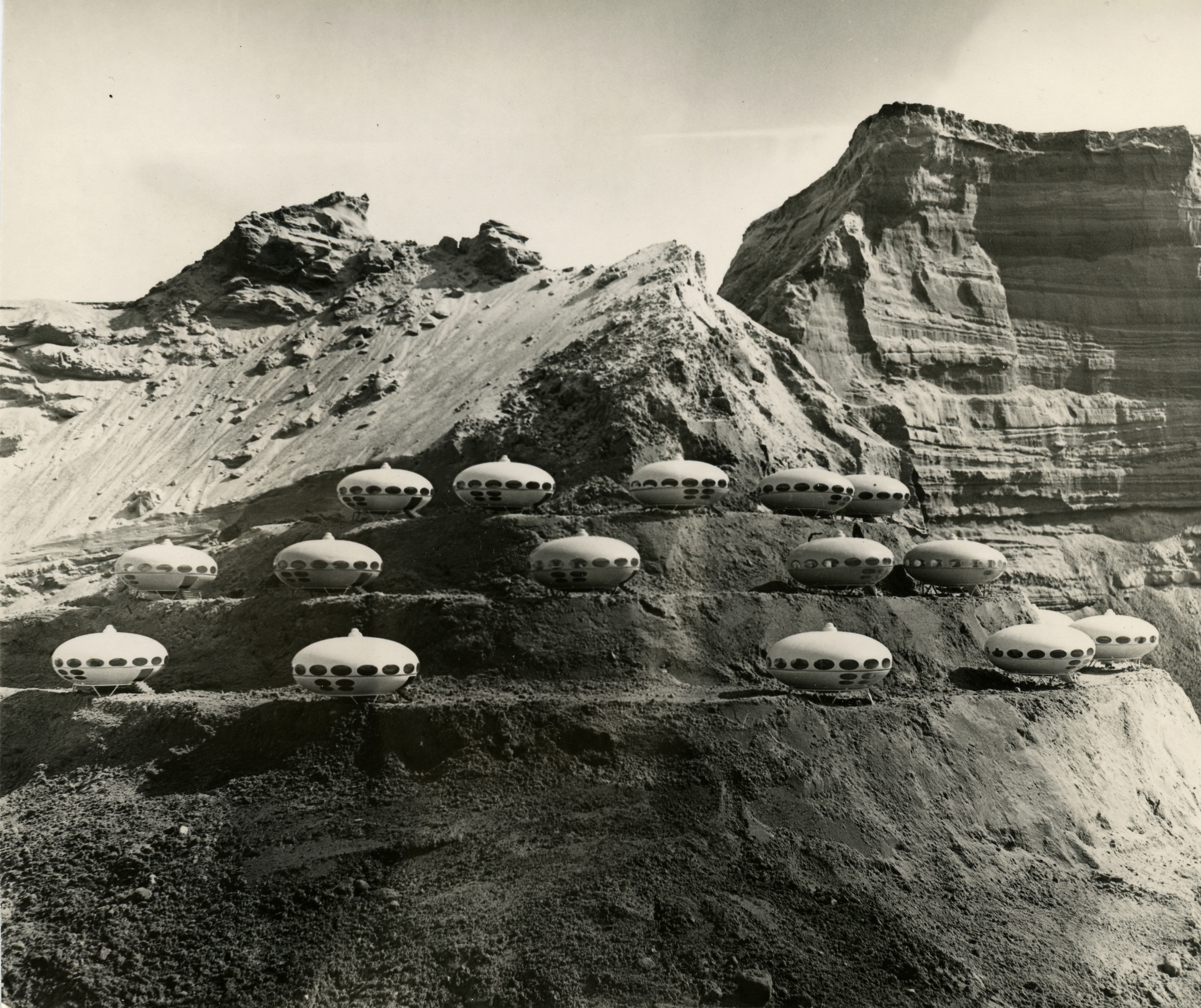 This type of accommodation can be described as "hygge" living. The word "hygge" is unique to Scandinavian culture. The concept of "Scandi hygge" can be best interpreted as a feeling. Remember cuddling up on the sofa with a soft, lush blanket, next to a warm fireplace? Imagine the weather outside is cold but you feel comfy, cozy and peaceful inside. This is hygge living.
The Futuro House has an incredibly vibrant teal blue color with a 1960s spherical shape surrounded by space hub windows. Its entrance features a "take me to your leader" other worldly alien-type ramp. It is also thoroughly insulated and capable of withstanding harsh, cold climates.
Inside, there is a modern minimalist design motif. Pops of color surrounded by bright ivory walls and bedding. Shared beds occupy the sleeping quarters, suitable for up to 4 people. It comes with private bathroom facilities, hot showers, mood lighting, studio monitor speakers, tea & coffee area, and an outdoor firepit with seating. Unfortunately, the one downside is no stove or oven for use, but there are food and drinks available onsite.
This vintage womb-like hotel is a classic representation of the golden era of sci-fi. It is a very niche rental for those who want to stay in an interesting hotel as they embrace the Scandi hygge experience.