Skyline Skyscraper Project Creates "Garden City" in One Tower
A new project concept called "Skylines" is taking biophilic design to the next level. Conceived by Lissoni Casal Ribeiro, the project is a self-sustaining vertical garden city in New York City. The infrastructure is designed like a skyscraper. Resembling a building, but as an entirely self-sufficient ecosystem.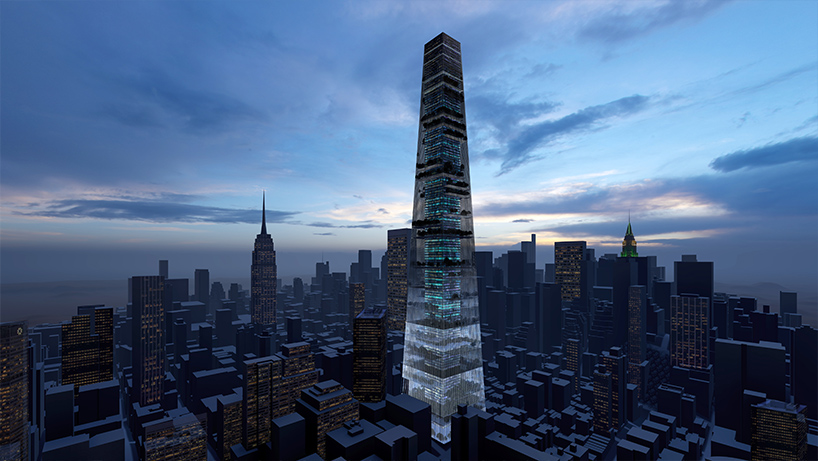 The multi-purpose tower collects rainwater, gathering energy through solar technology and wind power. It is designed for inhabitants, meaning, it is a garden city all within one large building.
A central core contains everyday functions that are completely surrounded by large hanging gardens supported by an external curtain of steel cables, which act as both the structure and the façade. The garden city has large platforms for activities and breathtaking aerial views of NYC.
Some of the platforms are utilized for growing food which are soil-less and reduce metal contamination in city-grown food. There are separate areas for public functions, sports events and healthcare, such as a hospital for health emergencies and concerns.
Schools, universities and offices are designed above these floors. The upper levels are designed for private residences because of their incredible views.
The design could be coined an "urban forest." A place where everything needed is contained within one large structure and needs little resources from other sources to produce energy, entertainment, medical care and education. Skylines is a progressive concept, especially now, during the COVID-19 pandemic and quarantine.
Similar to small-scale projects such as "Earthships," created by architect Michael Reynolds, with sustainability and energy optimizing in mind, the tower recycles and produces energy using natural resources, such as rainwater, sunlight and wind. The microclimate filters air, protects from solar radiation, reduces noise, and recycling of rainwater for irrigation.
"Skyline" won winning honorable mention in the Skyhive 2020 Skyscraper Challenge.