Sculptural Staircase Observatory Combines Beauty & Functionality for Bird Watchers
Bird watchers and nature enthusiasts will rejoice when they see the new sculptural staircase proposal created by Ulf Mejergren architects which serves as one structure with multiple staircases for observers at Pape Nature Park in Latvia.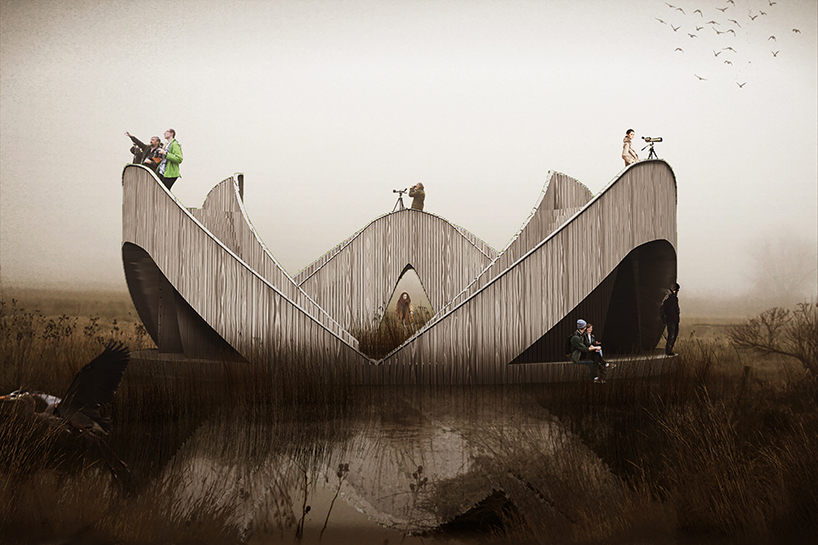 The bird observatory consists of 3 curved staircases formed into a circular shape which is 10 meters wide and is elevated from the ground.
The staircases are joined in a loop creating a void in the center of the structure. The staircases widen as observers reach the peaks of the structure, allowing observers to equally observe the surrounding nature park.  Underneath the staircases, there is shelter and a resting area facing the center where observers can gather and relax when coming down from the top of the observatory.
Aside from the towers aesthetic beauty, it is constructed from heartwood from Siberian larch, this material has a very high natural resistance against rot and decay.  Methodically placed gaps in between each board allow light to filter and create a permeable atmosphere. This helps dry the wood from any dampness or rain.  Wooden poles are driven down in the soil and interlocked with a treated wooden truss-system for maximum support and stability.
The structure was an entry in the first series of a competition in association with the WWF to create a new bird observatory tower to replace the one that was stuck by lightening and burnt down.