Mid-Century Modern Guest Room and Home Office Interior Design
To start, mid-century modern furniture and decor is stylish, airy, adjustable and oftentimes, multi-functional. Because of these qualities, turning a spare room into a multi-purpose space such as a guest room and home office combo is an easy task.
Mid-century modern interior design uses minimalism with multifunctionality to reduce clutter and to create a naturally open area. Furniture steers away from extra, unnecessary bulk. Desks and bed frames have more space underneath them to uphold the philosophy that "less is more."
The result is a more free-flowing environment. However, the materials used in the furniture, such as hardy woods, tempered glass, strong upholsteries and adjustable hardware along with the clean-cut, geometric forms create an atmosphere of stability and structure.
In a mid-century modern interior design style, a common element is a daybed. Some daybeds can even be folded into a bed, a sofa and a lounger. Comfortable, versatile and specifically, ergonomically designed chairs used as desk chairs or lounge chairs are placed with a sleek desk. The desk has minimal drawers and sometimes contains adjustable compartments. If you need a little help finding one, take a look at modern furniture stores like Inmod. They have a whole bunch of daybeds with the mid-century modern style we are talking about.
Designers experiment with the different styles of chairs to add personality to the space as mid-century modern chair design has been a large part of its history for the past 3 decades.
Modular shelving is another essential feature of mid-century modern interior design. This is useful in rooms you are doubling up as both a guest room and a home office.
To keep consistency throughout the space, designers choose 1- 2 types of wood finishes and they pick about 1-3 solid colors to carry throughout the area. Sometimes patterns will be introduced but its not as layered as many other design styles. Different textures and fabrics such as furry area rugs combined with fiberglass chairs and wooden bed frames can come into play.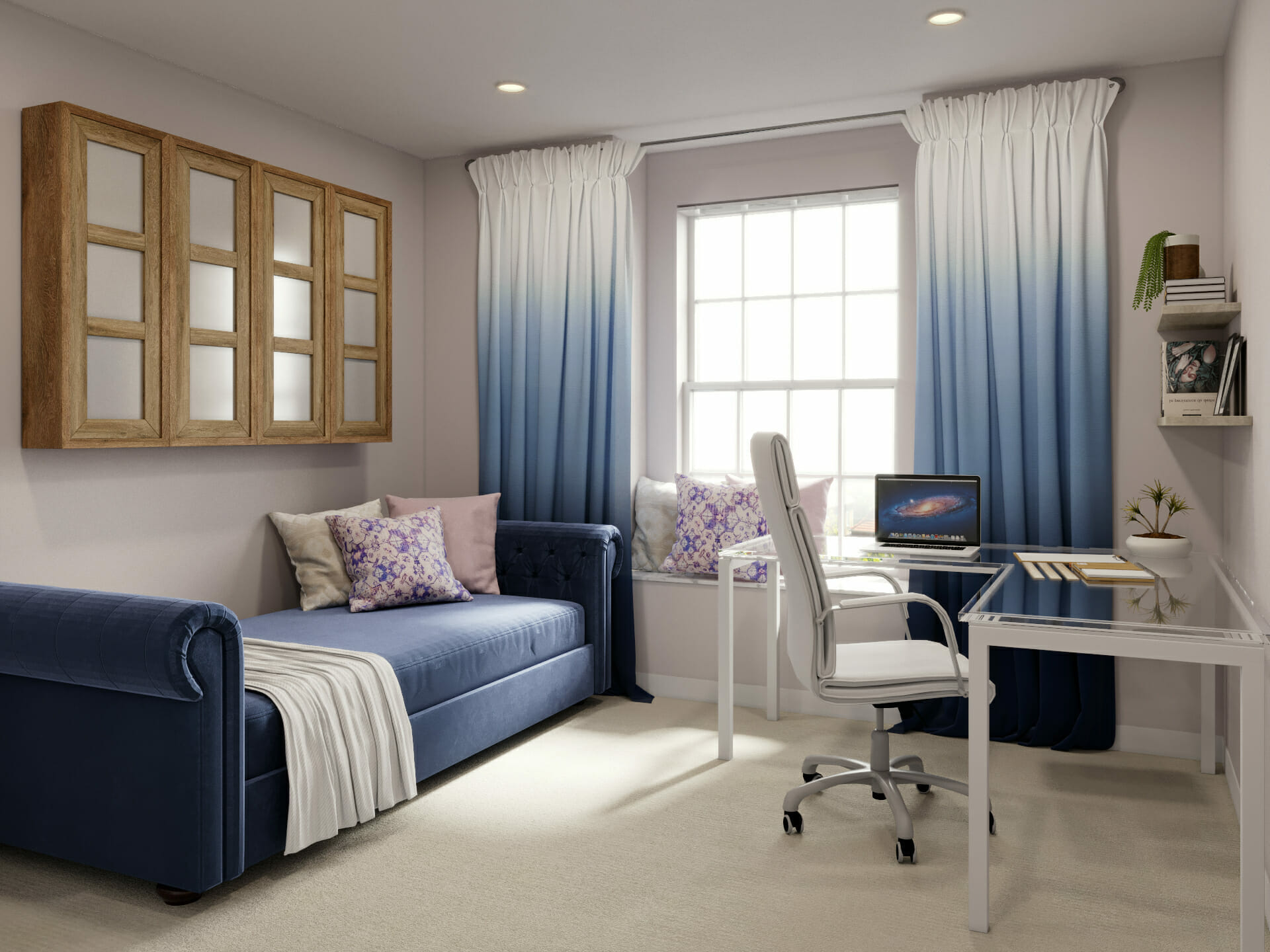 The final result of a mid-century modern interior design is composed, comfortable and studious. The overall design encompasses both the needed respite for guests in your home and the needed industrious space for you to work from home.