2020 Interior Design Trends that are OUT this Year
The design trends of 2020 are taking a leap forward in impressively new interior blending of styles. We may have an idea of what is IN this year, but let's take a look at the interior design trends of 2020 that are OUT.
Gray on Gray Saturated Hues
Say goodbye to layering different shades of gray toned furniture, decor, rugs and walls in 2020. We want bright accents, warm toned color palettes and eye-catching decor.
Open Shelving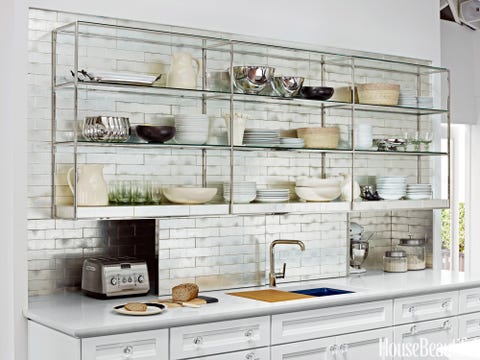 When shelves are open, things have to be organized, tidy and capable of fitting in with the design scheme. Your home looks much more put together without tons of different items on display.
Accent Walls
Accent walls were a huge design trend for the last decade. While they can help divide rooms and add contrasting / complementary colors to the walls, full on single patterned walls and fully painted, one wall color per room are making a comeback in 2020.
Granite Countertops
The upkeep and maintenance that goes along with having granite countertops has found its replacement. People are gravitating towards faux marble and quartz because of its durability. Plus, these trending materials resemble granite. Convenience and ease are key for countertops this year.
Mirrored Furniture
While this design trend isn't completely out of style in 2020, people are seeking lucite and acrylic furniture as an alternative to mirror finishes. If your style is Hollywood regency or Hollywood glam, chances are you have some furniture and decor with mirrored finishes. Don't fret! These are still top notch in those interior design motifs.
Faux Plants
As all-natural, eco-friendly and sustainably harvested furniture is a popular furniture trend in 2020, faux plants make little sense to own. Real plants add to the air quality and are beneficial to your living space. Faux plants are like having a drawer built into your kitchen that doesn't open. It looks like a drawer, but it's just for show. Go for the real deal.
Mosaic Tiling
We know that beautiful mosaic tiling may be hard to give up, but it slowly becoming outdated. Replaced with terrazzo for 2020, it is similar but has less ornate details.
Metal Furniture
Although still popular in pendant lights, chandeliers, lighting and even decor, metal framed furniture is out of style. This is especially true when it comes to bed frames. Stick to wooden and upholstered bedding for a calm, casual and comfortable bedroom.
Pale Monochromatic Palettes
Designing an entire room in pale monochromatic colors is, dare I say, a real bore in the year 2020. The entire room colored in gray, brown, taupe, white and neutral colors without any splashes of color is a thing of the past. Too safe is not what the new decade is about!
Now that we know what is OUT in interior design trends for 2020, we can focus on what is IN! Out with the old and in with the new.