Dark Southwestern Interior Design Motif
The southwest is filled with prickly cacti, poisonous snakes, dark scorpions and sun-stripped bones. Sounds dangerous, doesn't it? The darker side of southwestern decor caters to the deserts most brutal features.
Many people designing their home in a southwestern motif gravitate towards bright colors, detailed patterns and ornate furniture. Dark Southwestern motif steers away from the lighter, brighter side of Southwestern style and highlights the deserts darkest features, with minimalism in mind.
Steer Skull and Bones
A very common decoration you'll find in southwestern interior design are steer heads. Sometimes real, sometimes not, many come as hanging wall art or on stands and pedestals. You can also choose other bones from animals found in the desert to decorate with.
Black Pottery
Native American pottery is an all-time favorite of those who enjoy southwestern style. There are many different kinds to choose from. But one that is particularly dark southwestern comes from pueblos in the New Mexico area. The Santa Clara pueblo is one of them. This type of pottery features handmade designs similar to other tribal patterns and mythological stories. The difference is they use pigments that create black designs on black pottery. Sometimes the black pottery is deeply carved into the clay to create this effect.
Rocks and Minerals
The southwest is abundant with unique rocks and minerals, many of which are found on native reservations and in remote areas across the U.S. You can decorate using different types of rocks and minerals, which naturally have dark attributes, such as jagged edges, amorphic formations and unusual shapes.
Textile Wall Hangings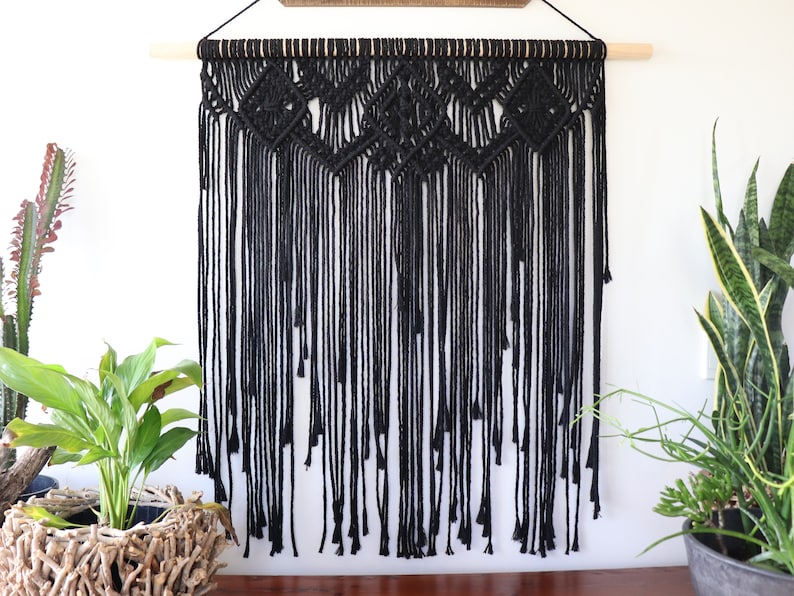 Textiles are a large part of southwestern style. Whether it be hardy, handstitched cowboy hat, a handwoven wool tapestry or a fringed leather hanging, find one to place as wall decor made with a dark or neutral color palette.
Cacti
No matter where you live, cacti is an extremely resilient and adaptable plant capable of surviving and thriving indoors. Choose from over 70 different kinds of cacti to use as natural decor in your dark southwestern style.
Minimal, Modern and Neutral Colored Furniture
If you want to achieve a dark southwestern motif, you have a lot more flexibility with the furniture. But it is best to go minimal, modern and neutral. This means choosing furniture in neutral colors. Furniture made of hardy materials such as leather, suede, cowhide and fur. Minimal embellishments, although, a nail head trim on a sofa would work! You have flexibility with finishes for wood and different types of metal. Silver is a big favorite for many southwestern designers, but you can definitely play around with gold, bronze and copper. Explore Inmod.com for dark southwestern minimal and modern furniture. They have a ton of stuff!
String lights
The desert gets pitch-black at night. The only thing is you and the stars. To lighten things up a bit, try string lights hung from the ceiling, draping down the trim of windows and doors, or neatly placed along the trim and baseboards. Your string lights will be like stars in the dark desert sky twinkling all around you.
Southwest design doesn't have to be all fluorescent neon colors, like hot pinks, sante fe blues and lime greens. Nor does it have to be bulky sofas and a clutter of southwestern themed trinkets. It can be kept minimal and pristine with a dark twist.