Black and White Teenager Bedroom Interior Design
Kids grow up really fast. By the time you custom design a bedroom for their 10th birthday, they've moved on from the sport they enjoyed, the marvel comic book movie they loved or the toys they played with. Black and White interior design for a teenager bedroom will keep things neutral, stylish and will give their colorful personalities the room (no pun intended!) they need to expand their interests.
A black and white teenager bedroom interior design style can be simple, but designers want to avoid making it look like a dungeon with too much black or a cleaning nightmare with too much white. Finding the perfect balance for your black and white bedroom is achieved by adding patterns and textures. Striped, zig-zag, floral patterns are a good place to start. But don't go overboard! A striped rug and striped accent pillow is plenty to keep consistency throughout the space using patterns.
Designers can experiment using solid black and white for the bedroom set and the bedding. If can add 1 or 2 other solid colors that won't take away from the black and white design either. You can even ask your teenager to pick the other 2 colors!
Textures can play a major role too. You will have a lot more flexibility in this area. Try shaggy rugs, crocheted throws, glossy fiberglass desk chairs or cotton blend lamp shades.
We all want the best for our kids, especially as they grow and prepare to move on and out into the world. There's one philosophy that believes positive words and affirmations you read everyday can inspire and motivate you. Adding an inspirational quote decal or motivational collage in your teenagers black and white bedroom breaks up the neutrality of the design and adds a dynamic element to the mix.
The best part is, black and white bedroom interior design works for all genders and the simplicity of the color palette will give them the flexibility they need to not grow out of it as quickly. This means that you can design your kids bedroom in black and white on their 13th birthday and they won't feel embarrassed when friends come over by the time they turn 17 years old.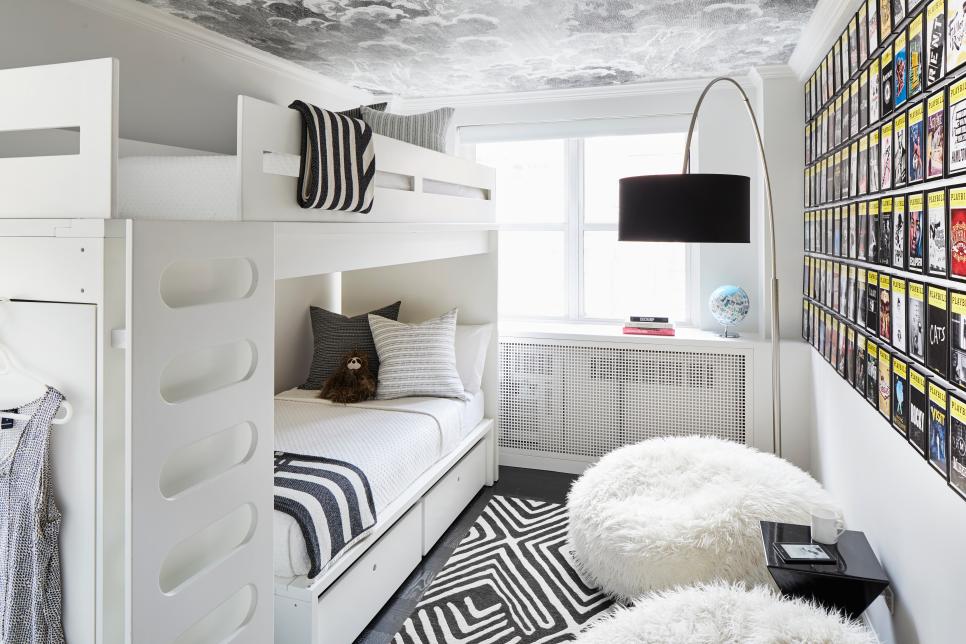 The overall black and white teenager bedroom interior design style is versatile, flexible and neutral. Whether your kids loves music, sports, gaming, writing, painting, dancing, reading or any other activity they've grown to enjoy, their black and white bedroom will give them a space to express themselves freely.