Art Deco Furniture and Opulent Decor
A night out on the town in the 1920s meant glitz, glam and a lavishly good time. You can bring all the frill and fab of the roaring twenties and Hollywood 1930s into your home with art deco furniture and opulent decor.
What is Art Deco?
Art Deco showcased a wealthy lifestyle with an appreciation for the finer things in life. Art Deco is characterized by sleek forms, trapezoidal shapes, zigzag patterns and clean, rectilinear designs. Art Deco brings retro-luxury with immeasurable opulence into your home, even with just one or two furnishings.
Velvet, Jewel Toned, Button Tufted
There's no need to go overboard either. Like a Hollywood actresses dressing room, a velvet upholstered lounge chair in a honey gold will do. Even try a button tufted leather sofa, like a classic smoke lounge for that classic rich feel.
Exotic, Rare, Wood
Fine materials are another staple of art deco design. The rarer, the better. The most important feature are the intricate patterns, overlapping of colors and one-of-a-kind look achieved with furniture made of exotic, rare wood.
Frameless, Paneled, Clamshell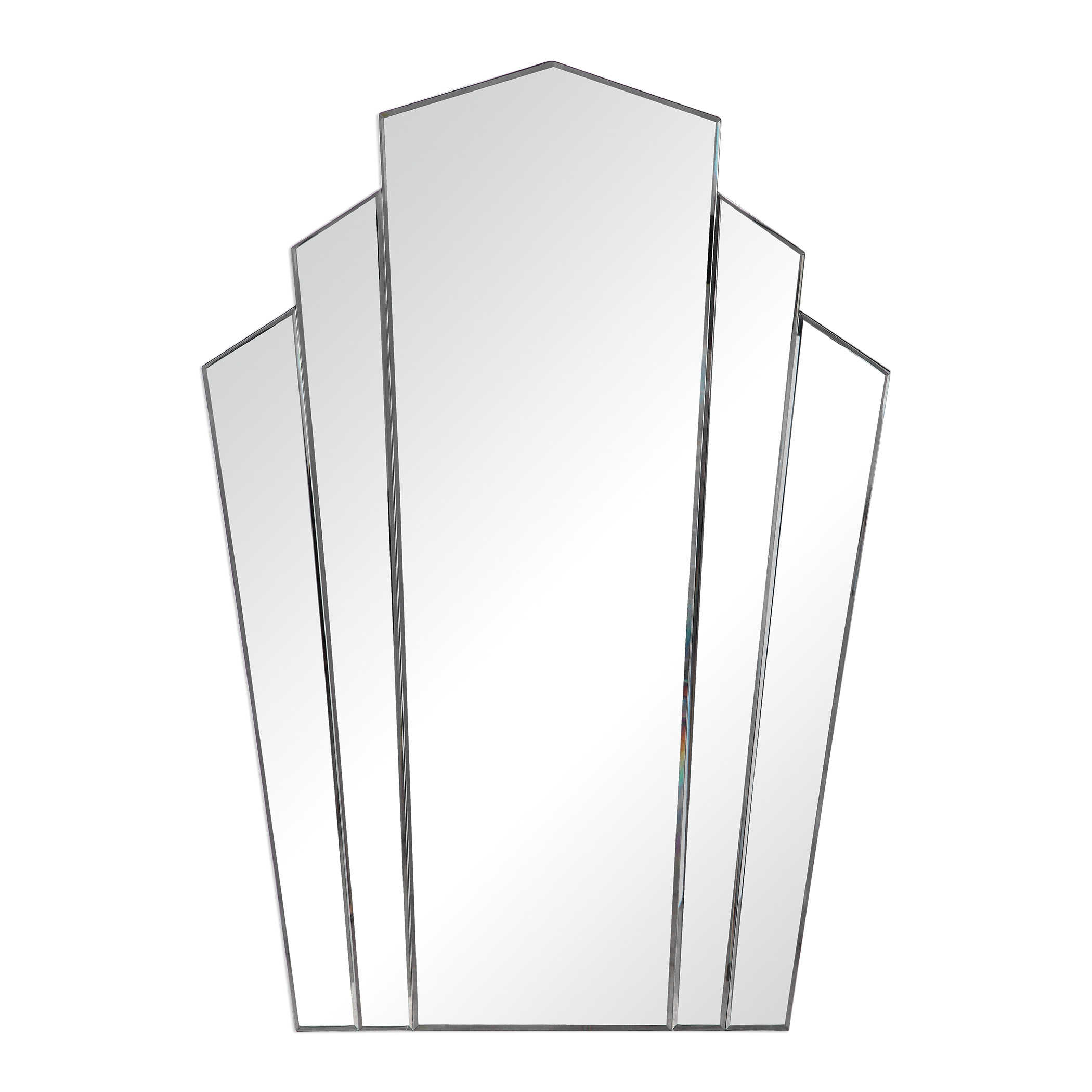 A frameless accent mirror in this fabulous clamshell-shaped design will make a grand entrance placed in the hall of your home. Absolutely glamorous, this mirror is swinging with the art deco vibes of the Hollywood 1930s.
Sled Base, Geometric Weave Pattern, Metallic
Many art deco inspired furniture uses reflective finishes such as gold, bronze, brass, chrome and mirror. The unique geometric weave pattern carved out along the arms of this art deco lounge chair will bring the theatrical feel of a NYC matinee into your home.
Marquetry, Hidden, Layered
Marquetry, which embellishes a furnishing with multiple pieces of veneer forming decorative patterns in an art deco formation, is another way to bring this style into your home. It is a craft that leans towards zig-zags, sunbursts, chevrons and other art deco inspired patterns.
Lacquer, High Gloss, Sleek
Art deco enthusiasts love their high-gloss lacquer! It is both contemporary and retro, blending materials with the naturally luxe style of art deco design.
Bring the touch of luxury, wealth and opulence by adding a few lavish accent pieces and unique art deco inspired furnishings into your living space. You will feel those dramatic, vintage vibes the moment it arrives!