Accents with Words for Daily Reminders & Inspiration
We've been seeing a lot of this trend lately! Words of daily inspiration, reminders and even simple decorative labels are trending in minimalist, bohemian, contemporary and even mid-century modern design. They are on accent pillows, wall art and centerpieces. Here are some of our favorites!
Neutral, Clean, Cursive Script
With its neutral color palette and decorative cursive script, we absolutely love this accent pillow welcoming family members and friends to "stay awhile."
Creative Inspiration, Office, Embossed Letters
Mainly for a workspace or a home office, designers used silver embossed letters against a bright yellow wall to get the creative juices flowing in this space!
Custom, 3 Panels, Married Couples
For the happy couple that loves to be reminded the day they were married, this 3 panel wall art is customized with the bride and grooms wedding date. We absolutely love the conjoining heart and the minimal black-and-white color palette.
Autumn Inspired, Warm, Inviting

The perfect word accent pillow for autumn, especially Thanksgiving, this pillow is simple and to the point! We love the heather gray with the bold decorative script. We especially love its rectangle shape combined with fall friendly colors mixed with both solid and print patterns.
Vegan, Decal, Kitchen Decor
For those who loves to express their beliefs and their favorite foods, this wall decal combines fun art with simple words for the kitchen! We love that it stands out amongst a very modern minimalist design.
Bold, Colorful, Textile Accent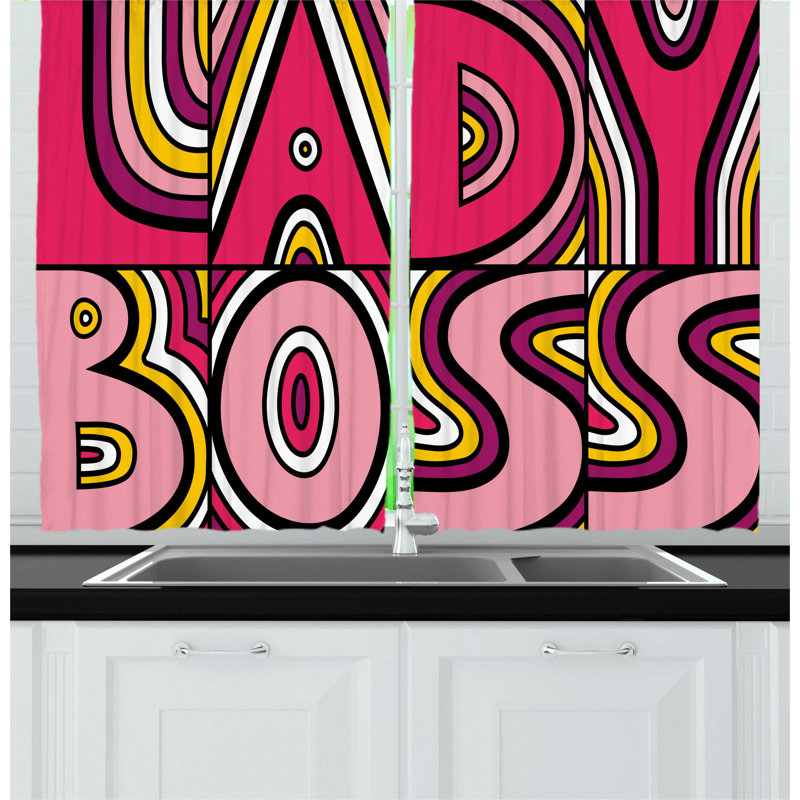 This is a bold feminist piece letting everyone know who is the boss! It is actually a two panel design and displayed on decorative curtains!
Abstract, Playful, Versatile
We imagine this lettered accent pillow could be displayed in a variety of different interior design settings! The script is abstract and it's hard to make out what it says. Although, it might just be a jumble of letters. In any case, it pays homage to the English alphabet!
Wood, Vertical Panels, Rustic
For those who love to be direct, this 3 paneled wooden wall piece is exactly what the doctor ordered for a rustic and farmhouse country kitchen! Displayed vertically in marquee letters, this accent wall art, simple says "EAT."
Stencils, Labels, Functional
Don't know where the coffee mugs are? Now you do! This simple letter accent piece is both stylish and functional. Stenciled letters painted atop of a wooden pallet let you know where to go before you head to the coffee pot.
The letter decor and worded accents is in full trending gear this year. Friendly reminders to let your guests know to stay for awhile, for family to know you care for them and for you to remember where the coffee mugs belong!