7 Unique Bedroom Headboard Ideas
Headboards can come in all different shapes, sizes and styles. Let's take a look at 7 unique bedroom headboard ideas for inspiration.
Bright Sunburst Headboard
Rise and shine with a sunburst headboard. Metallic sunburst headboards brighten up the bedroom. We love its arched and pleated pattern with touches of ornate details around its centerpiece.
Arched Fan Headboard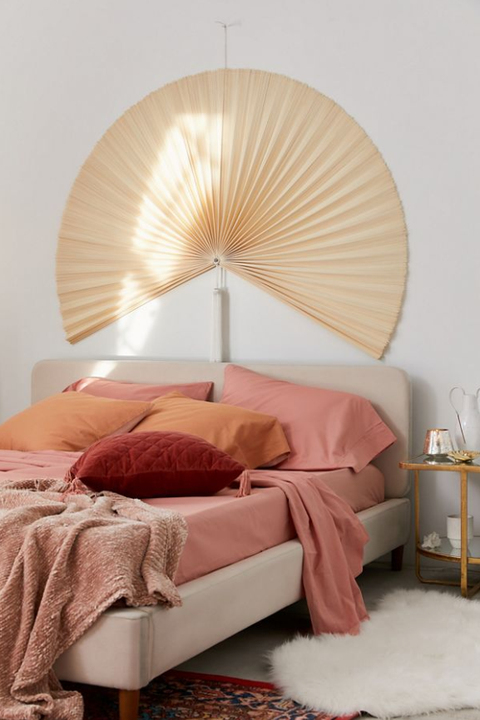 Arched fan headboards are perfect for Asian-inspired, boho chic and art deco bedroom designs. We love its beautiful pleated pattern and airy appearance.
Abstract Extension Headboard
Abstract extension headboards break the mold of bedroom design. We love its out-of-bounds, optical illusion appearance. It adds scale and beauty to the entire bedroom.
Lotus Blossom Headboard
Lotus blossoms headboards can be made of a variety of materials, including braided metal, carved wood and woven natural materials. The simplified story of the lotus is it can grow and flourish in even dark and murky, muddy waters. The lotus blossom symbolizes prosperity and growth even in the darkness. Sounds like a nice way to wake up, doesn't it?
Aquatic Fish Tank Headboard
Watch the waves of the water in motion as live fish in an aquatic tank float above you. An aquatic fish tank headboard takes serenity to the next level. We love its appreciation for life below the sea taken to new depths from above.
Stacked Blocks Headboard
Textured and abstract, stacked block headboards pop out from the wall and extend above touching the ceiling. We love their resemblance to a stone wall that is soft to the touch.
Woven Twine and Rattan Headboard
Woven rattan headboards are like having a bed-sized picnic basket at the head of your bed. We love its rustic and naturally raw appearance.
If you are looking for the perfect bedroom design, we hope these 7 unique bedroom headboards gave you the inspiration you need to turn your bedroom into your sleeping sanctuary.